We are Mount Desert Island residents, businesses and municipalities working to achieve energy independence by 2030.
Our Solarize MDI Campaign Just Doubled Solar Capacity on MDI!
In April when we began our Solarize MDI campaign with our partner ReVision Energy, Mount Desert Island had a total installed capacity of 646 kW of solar photovoltaics - representing growth over a few decades. By our deadline of August 15, just four months later, we had secured 76 solar installation contracts with homeowners, businesses, and one municipality totaling 643 kW. This represents a doubling of the total solar capacity on the island! We're saving 76 customers over $160,000 on solar installs. Thanks to ReVision, Bar Harbor Bank & Trust, our dedicated ACTT Volunteers, the MDIslander and everyone else who helped make the Solarize MDI bulk purchasing the most successful Solarize program in Maine!
Thank You for a Successful Crowdfunding Campaign!!
A Climate to Thrive's work would not be possible without the generous contributions of our island supporters. Within pennies of $9,050 in small and large donations, our July Crowdfunding Campaign nearly reached our goal of $10,000. Thanks so much to the 65 people and families who invested in making MDI an epicenter of citizen engagement, environmental sustainability, and economic vitality at a time when our national and state leaders are turning their backs on climate change and a healthy future for our children and generations to come.
Local Couple Offers $25,000 Challenge Pledge to ACTT
A local couple who grew up on MDI have made a five-year, $25,000 matching pledge to A Climate to Thrive (ACTT), which would be the largest tax-deductible gift in our 19-month existence.
"We enthusiastically support the mission of ACTT and envision its expansion to communities across the State and beyond," they said.
However, to qualify the pledge each year, ACTT needs several donors to contribute gifts of $1,000 or more to match their $5,000 annual gift. We're doubling solar energy on MDI this year and have plans to double it again next year. Will you consider investing in our vision of energy independence for MDI by 2030? Learn more or Donate Thanks!
The knock of climate change on the door of human existence grows even stronger ...
A lot can happen in 18 months. In January, 2016 we wrote an editorial to the MDIslander. Johannah was five months pregnant. A Climate to Thrive (ACTT), MDI's initiative working towards energy independence, was about to hold our launch event. We were fairly well-rested human beings with very little grey hair and ample free time - exploring the emotional nuances involved in deciding to bring a baby into today's world.
Today we have a thirteen month-old daughter, more grey hairs, a lot less free time, and an overabundance of love in our lives. And just over a year after its launch, ACTT has established Eastern Maine's first community solar farm, launched the "Solarize MDI" group purchase initiative, distributed thousands of energy-saving LED light bulbs, initiated a Municipal Energy Benchmarking Collaboration, facilitated composting workshops and a Ride Share Program and established the first (of many) island EV charging stations. We are already becoming a model for local action on climate change. Read more.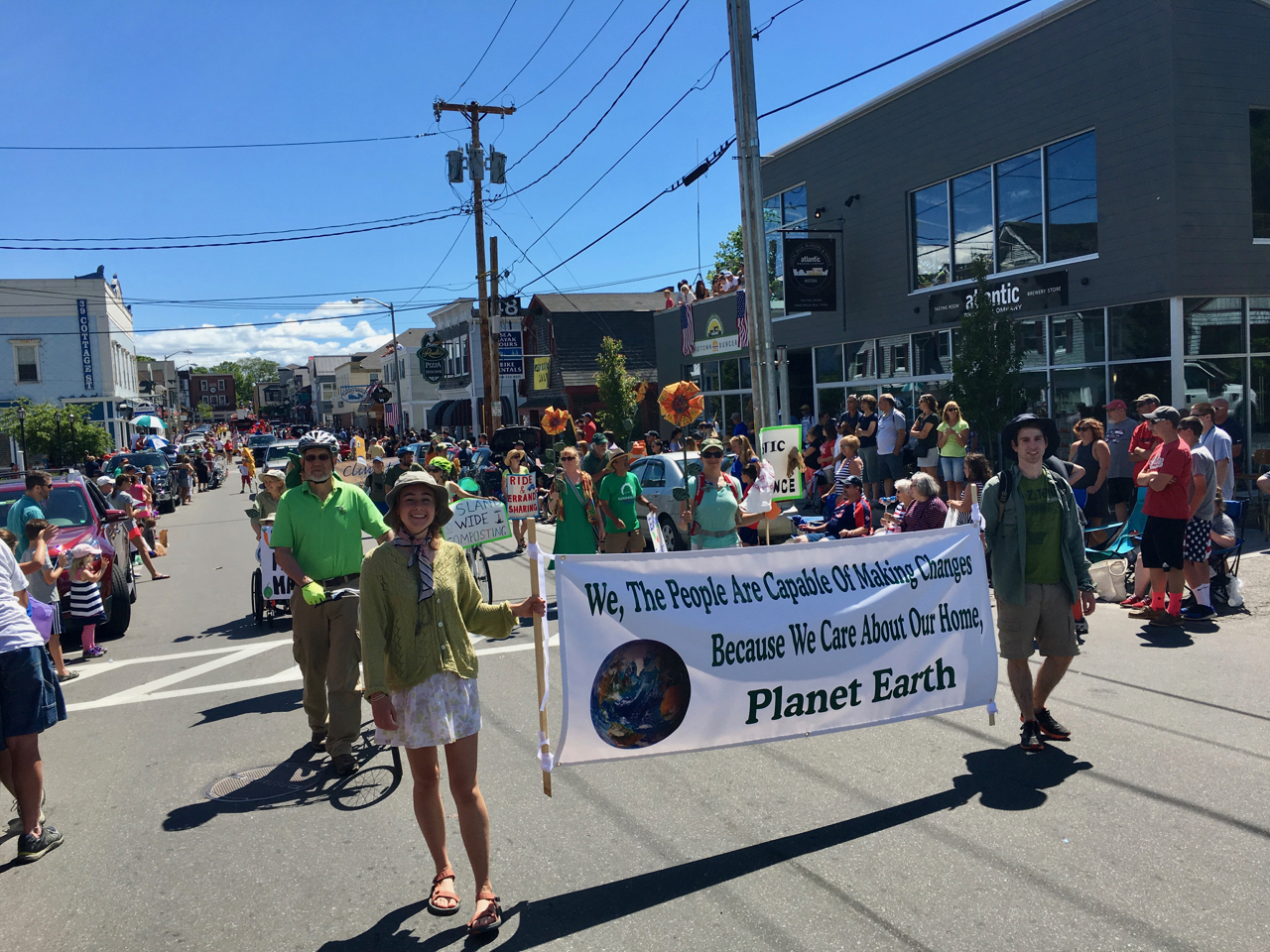 Volunteers! Help us Thrive!
Hi! I'm Jill Higgins and I'm doing some temporary project management and volunteer coordination with ACTT 10 hours a week over the summer. I'm amazed and heartened by all that ACTT has accomplished since a group of concerned MDI citizens started it 16 months ago! See ACTT Progress Highlights

We have launched so many great sustainability projects - more than our small group of volunteers and part-time coordinator can manage! Joe and the Board have been writing grant after grant to fund the hiring of project managers, We've received several grants in 2017, but there's intense competition for environmental grants right now - understandably. Our work continues to depend heavily on committed active volunteers and private donors. (We'll be doing a crowd funding campaign soon.)

If you think you might like to do some volunteer work to help MDI become energy independent and environmentally sustainable by 2030 (or if you are already an ACTT volunteer), please give me a call at 413-320-9135 or email me. I'd love to talk with you about what you have to offer and what you love to do and help you find the perfect volunteer role for you, that will be just as good for you as for ACTT's mission.

Some of the fun projects we need help with are organizing the Winter Farmers' Market; possible plastic bag and packaged water bans; working with towns on municipal building efficiency; climate change education in the schools and community; teaching and promoting composting and gardening; promoting bike trails and electric vehicles; working with island businesses to become designated "Climate Friendly Businesses"; posting flyers on a regular basis; and of course, fund raising! We're interested in exciting, creative ideas for fundraising, like big name concerts, film festivals, and other fun community events. And if you have your own ideas for sustainability projects you'd like to lead, we'd love to help you get the word out and find supporters through out 1000+ email list, Facebook page, and website. Together, we can achieve energy independence by 2030. Let's talk! - Jill Higgins
A Climate to Thrive (ACTT) was started by Mount Desert Island residents who believe that moving our island towards energy independence will also lead to a thriving economy. We are committed to efforts that build MDI's local economy and make this island a leader in practices and policies that reduce our carbon footprint. Our projects, such as the ones featured above, will create jobs, preserve the beauty of this island and establish MDI as a resource and leader for communities around the world.
Do you enjoy passionate discussions about clean energy, local food systems, zero waste, public policy, new transportation?
Join one of our six committees to help create the future that you envision for your family, your grandchildren, and future generations.
Contact us at joe@aclimatetothrive.org to find out how you can help us reduce our carbon footprint on Mount Desert Island.
Meet ACTT's Summer Interns
Emily McCarthy is a graduated senior from Mount Desert Island High School and will be attending Acadia University this fall majoring in Nutrition and Dietetics with a minor in Environmental Science.
Through this internship, Emily hopes to apply her knowledge and interests in food to help educate younger generations about the positive impact food choices have on local communities, the environment, and climate change.
Both Ellie and Emily are working with on an LED Bulb project to distribute and educate communities on the island about energy efficiency and the importance of using LEDs and helped organize ACTT's 4th of July parade entry.
Ellie Bridgers is a rising senior at Mount Desert Island High School and is interested in pursuing a career in environmental science. She works at Beech Hill Farm part-time, and is connecting her interest in food to her love of science between both job and internship.
As a part of her internship, Ellie hopes to pursue her interests in data science as applicable to projects from the Zero Waste committee.
Host Ron Beard discusses ACTT's vision of "energy independence by 2030" with Gary Friedmann, Chair, ACTT Advisory Board, and Joe Blotnick, ACTT Coordinator. Anna Demeo, COA's Director of Energy Education and Management, calls in from the roof of Skip's Auto in Southwest Harbor while helping students install new solar panels. May 12, 2017
Check Out the Solar Potential of Your home
Click above to view the solar potential of your home or business on MDI. The above solar assessment web app was developed by COA student Wade Lyman based on simulations of annual solar incidence, including the effects of intermittent shading from adjacent topography, structures and trees throughout the year. This allowed for relatively precise, high resolution estimations of solar technology performance on every roof. It serves only as a first step in evaluating your site.